So in spite of my firmly articulated aversion to tag, the gorgeous
Morgan
has tagged me to play her freaky self-portrait game (which I have to admit is rather addicting). I thought I might weasel out of it on the technicality of owning PSP instead of Photoshop, but as I didn't want to risk the wrath of Morgan, here ya go:
(me in a washing machine)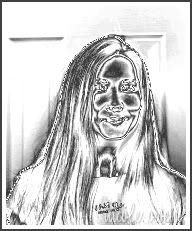 (the poltergeist version of me)
(how I'd look if you infrared-thermal-scanned me)
(touched-by-an-angel)
(impersonating jimmy neutron)
So I ended up with weird more than freaky, but I've frittered away too much time to go back and redo the assignment. Weird it is.
And now I shall go against every fiber of my non-tagging morality and tag
Emily
, because everything she touches is hilarious. Let's see it, Em!