This afternoon was cloaked in white chocolate.
Me, I'm not much of a white chocolate fan, but this recipe is sublime.
Melt the chips till they're shiny. We used a crock pot, but you overachievers could always bust out your double boilers.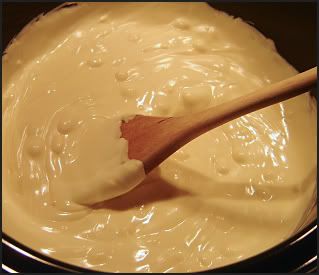 Stir.
Mix a bunch of dry snacks/cereals. We picked Rice Chex, Crispix, pretzels, almonds, and Bugles. This task requires a gargantuan bowl*, although you can always use a small bowl eight times.
Pour the melted chocolate over the dry mix and turn carefully until the mix is evenly coated.
*I used to own a large plastic bowl, but one day my husband abducted it for a teen foot-washing service. He got to keep it.
Spread the coated mix in a thin layer on baking sheets to cool. Once hardened, break apart and store in airtight bags/containers, and give them to your friends who will love you forever.
Of course, you could eat it yourself. After all, you've been really, really good this year.
Notes: We used
4 packages (12 oz each) of white chocolate chips (add more if you're fond of white chocolate)
2 large boxes of cereal
2 small boxes of Bugles
12 oz of almonds
2 packages of pretzels